Airmax ​Pond & Lake Aeration Kits Sales/Installations/Service

About Aeration
Living Waters offers Airmax bottom-diffused aeration for shallow ponds and lakes  that are a unique maintenance challenge to local pond owners. Less water depth means smaller plate coverage which usually translates to bigger, more expensive, multi-plate systems. 
Airmax Shallow Water Series™ Aeration Systems provide multiple plates to provide evenly distributed aeration in shallow water applications without forcing customers into large cost-prohibitive aeration units. Designed specifically for use in shallow water, our Shallow Water Series™ Aeration Systems aerate ponds up to 1/2 surface acre at 6' deep.
Large Pond Aeration
Aeration is all about gasses. Aeration mixes the pond so that toxic gasses are efficiently released and life-giving oxygen readily replaces it. An aerated pond will be clearer, cleaner, healthier, and have less bottom muck than a pond without aeration.

​A pond without aeration will become stratified into two very separate layers in the summer heat. This is because of the physical properties of water. As the sun warms the surface water, it becomes less dense and thereby lighter than the cool water below it. The line at which these two layers separate (similar to oil floating on water) is called the thermocline.
SilentAir™ LR Series Linear Diaphragm Compressor
The heart and soul of each Shallow Water Series™ Aeration System, our powerful yet energy efficient SilentAir™ LR Series Linear Diaphragm Compressor push oxygen through your pond while remaining whisper-quiet and costing as little as $3.48 a month in electricity running 24/7. Each compressor has a 2-year warranty and is fitted with an integrated Manifold with Ball Valves to simplify airflow-management and is mounted on vibration reducing rubber feet to ensure quiet operation. Each airline is equipped with Quick Disconnects for easy system removal and storage.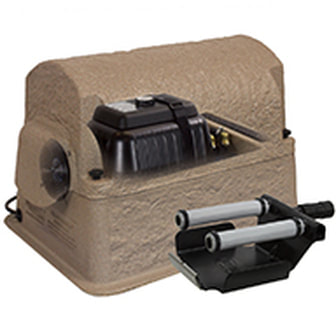 Airmax® ETL Composite Cabinet
Our attractive composite cabinet houses and protects the SilentAir™ Compressor from outdoor elements. An integrated cooling system utilizes a ventilation fan with rain shroud and high-density air intake pre-filter to distribute air evenly throughout the cabinet keeping the interior components clean, cool and dry. An elevated base protects the aeration hardware and electrical components from flooding and rainwater accumulation while the removable top ensures quick and easy access for inspection and maintenance. Every Airmax® ETL Composite Cabinet in our Shallow Water Series™ is electrical safety certified and comes complete with a pre-wired electrical box and 6 foot power cord to provide power to the enclosed cooling fan and aeration compressor.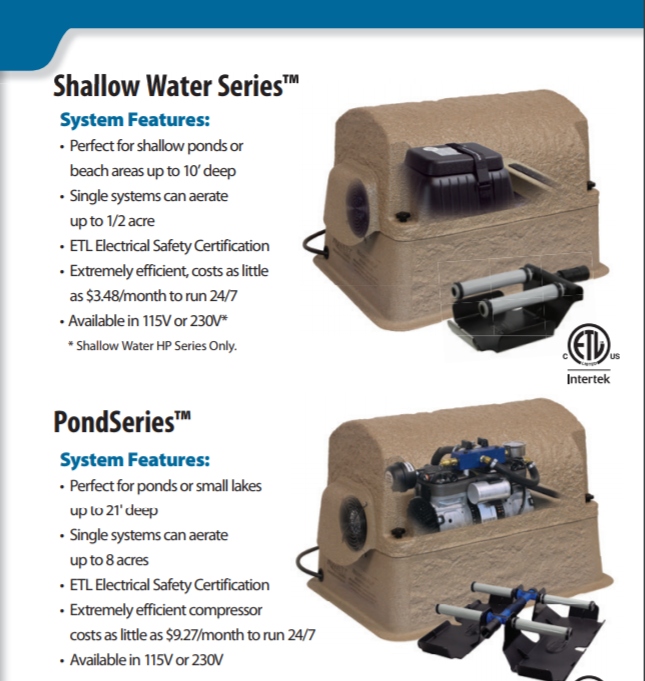 The Airmax® Composite Cabinet comes with a lifetime warranty on the cabinet and a 2-year warranty on electrical components.